Note: Revisiting an excerpt from my book The Nature Whisperer: Seasons of Light.
An animal's eyes have the power to speak a great language.
     ------Martin Buber, I and Thou
Deer hold a magical spell over me. Perhaps it all began way back when I was a little girl.
___________

Travel back with me in time as I take you there. Imagine the quiet hush of the night woods and let it begin to seep into your senses.  
Shhhhhh.       We are about to begin.
Each Christmas Eve, after all the relatives had gone home and the dishes washed and put away, my dad would give the signal that sent my siblings and me into high gear, grabbing hats, gloves and warm coats.

"Who's ready to go?"
We would race to squeeze into the cab of our dad's pickup trunk (it was green, not red). Whoever had the misfortune to be last had to suffer the indignity of sitting on laps, jostled and bounced around by the bumpy roads plus a little devilish encouragement from us. But soon the jockeying for position would settle down. Expectancy would take center stage. 

We are now on our way. Come along with us.
Houses dotted with red and green lights are no longer in sight. Now passing acres of farmland enjoying their winter rest, we head toward the forested Pine Barrens of New Jersey.  It is very dark except for moonlight that illuminates the treetops. Dad slows the truck and turns onto a narrow road. guarded by large trees on both sides.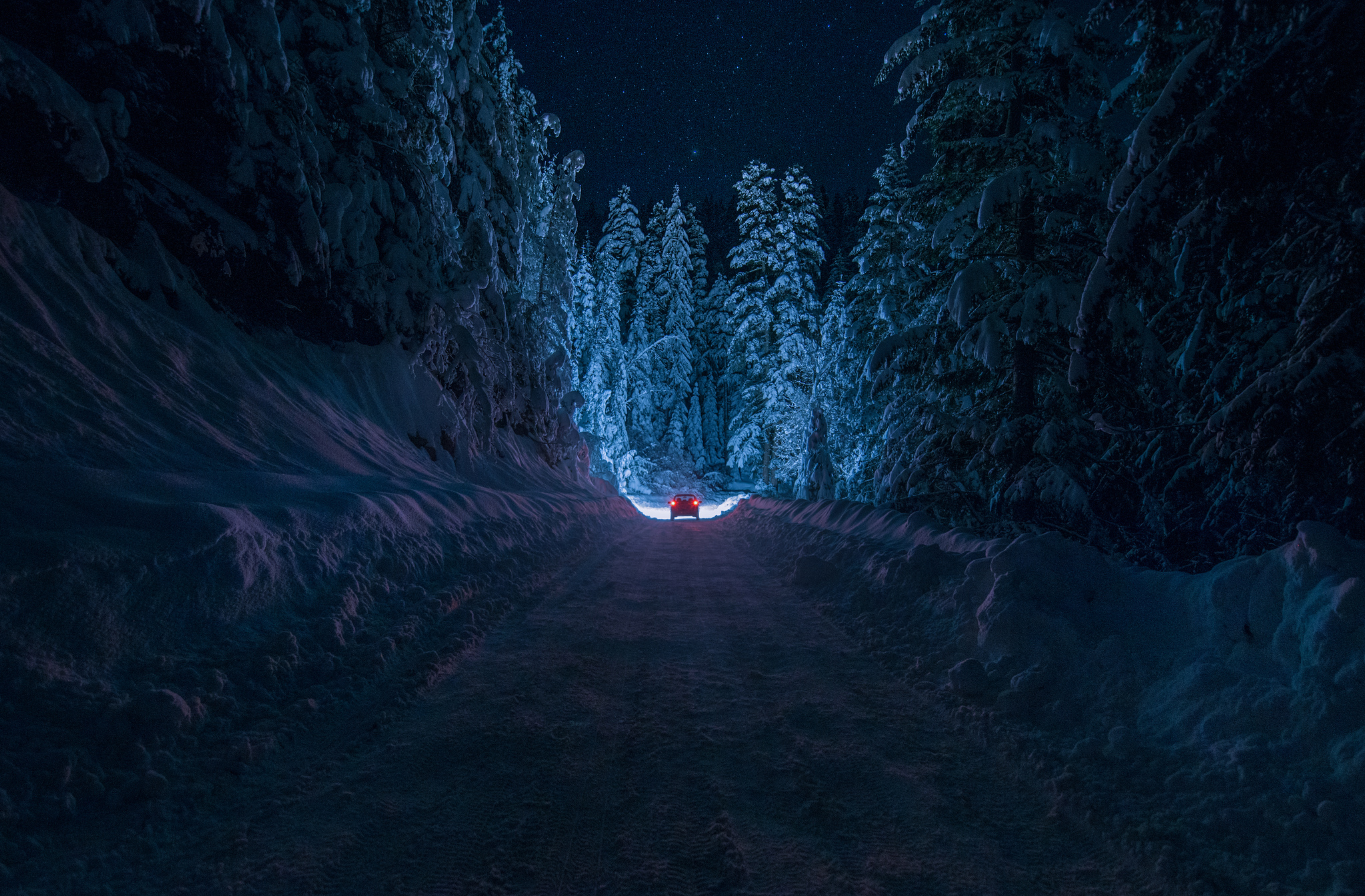 We are silent.  Even the truck is quieted by the snow-packed road. A few hundred yards in and the road tapers into a lane. Bony arms from skeleton trees reach out from the black night, their sharp edges scrap glass and metal as we navigate the narrowing twists and turns of the road.  I wondered. Are they pointing the way or trying to block our entry?

We finally reach our destination: a small clearing at the end of the road.
Darkness engulfs us, but we are not afraid. We know this place. Not wanting to make any loud sudden noises, we carefully climb out of the truck. Any other time or place, there would be pushing, shoving and playful name calling, but not tonight. Here in nature's cathedral. we are subdued.

Dad keeps the headlights on as we whisper our way to the usual tree stumps.  Soon the path of lights from the truck would serve another purpose.
We come to a place with snow covered tree stumps and we brush off the snow. They seem smaller this year. We still very still and wait for the magic.  We are not disappointed. 
Soon a soft rustling and movement stirs our hearts. Attracted to the light beams from the truck, deer silently emerge from the cover of an inky black night. First one, then others. Three . . .  four . . . five.   How many more were out there waiting for a cue?  They stand tall, like nature's royalty, their brown almond-eyes studying us. I wonder what assessments they were making about us and our intrusion into their world. 
Held in their gaze, we do not move. We sit like statues taking in only minimal shallow breaths. We know how fleeting our time with them would be. Any quick movements from us would certainly cause alarm.
But it is Christmas Eve, and their countenance presents a knowing.  There is an exchange between them and us, a wordless language that speaks of beauty, peace and reverence on this silent night. 
An ear twitches and sends a message to the herd. Heads turned upward and almost as silently as they appeared, the deer disappear, swallowed up by a shadowy forest.  And there we sit, holding on to something we cannot name. 
Eventually Dad would bring us back to reality and beckon us back to the truck.  My brothers wondered about how we might keep a deer in our backyard. We had the space for it, but somehow the thought of capturing, caging and owning deer was disturbing to me.   
It has been a lifetime since those treks into the night woods, yet the memory clings. 

That which you freely let go, will remain.  The Christmas Eve Deer taught me that. 
      -------G. Hill
But ask the beasts, and they will teach you; the birds of the heavens, and they will tell you; or the bushes of the earth, and they will teach you; and the fish of the sea will declare to you. Who among all these does not know that the hand of the Lord has done this? In his hand is the life of every living thing and the breath of all mankind.      ------Job 12:7-10
I and Thou was a concept introduced by a German theologian, Martin Buber. Buber presented the concept not on the individual or others but rather on the relationships and attitudes between two beings.  Connectivity.